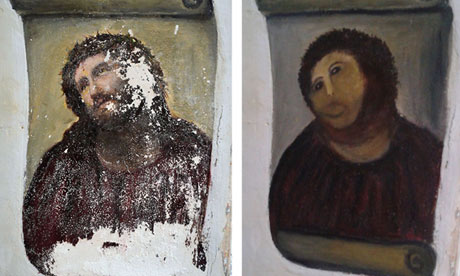 By now I'm sure you have all seen this stunning restoration job by Cecilia Gimenez. My question is – how is this any different to the restoration of other famous works? At least with Elías García Martínez's Ecce Homo it is obvious that the original work has been changed.
Take Leonardo da Vinci's The Last Supper, it started falling apart almost as soon as it was painted. So restoration has been taking place (for better or worse) for the last 514 years. My bet is, not much of the original paint layered on by Leo is still there. And yet it is still 'Leonardo da Vinci's The Last Supper' – not 'a collaboration of nameless restorers based on Leonardo da Vinci's original plan's The Last Supper'.
So yes, Cecilia Gimenez absolutely butchered the painting. But any casual viewer knows that the brown blob was not intended, or painted, by the original artist – so perhaps it is a more honest take on art restoration?
Moral of the story #1 Never trust those small white boxes when they say the work was painted by one person in particular (especially if it is a famous person) because you are probably looking at flecks of original paint + hours of modern work.
Moral of the story #2 If you see an eighty-something woman in a church with some paintbrushes heading towards Jesus with a purposeful gait, you might want to steer her towards your nearest leisure centre.